MARCH 12, 2018
FR:      ALEXANDRA GREENBERG/MSO PR

AMFAMFAMF Presents
FRIENDSHIP
ANNOUNCES SOLD-OUT INAUGURAL CRUISE
FOR DECEMBER 11-15, 2018 SAILING
ABOARD CELEBRITY CRUISES EQUINOX
FROM MIAMI TO THE BAHAMAS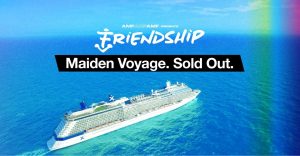 AMFAMFAMF presents FRIENDSHIP—the new music cruise experience that will take place aboard the Celebrity Equinox December 11-15 from Miami to the Bahamas—has announced today (March 12) cabins are no longer available for its inaugural sailing. 3,000 shippers who signed up at www.thefriendship.com were given first access to cabins for FRIENDSHIP's maiden voyage of which sold-out within less than 48 hours.
Curated by DESTRUCTO (aka Gary Richards, founder of HARD Events), FriendShippers will cruise out with some of the best international music acts aboard a glamorous ship to sea.  The four-night venture will set sail from Miami to two private island beach parties in Coco Cay, Bahamas where currently Royal Caribbean, Celebrity's parent company is building a new pier.
FRIENDSHIP is the perfect setting to make new friends and gather with old ones.  In addition to a bounty of stellar music programming, Celebrity Equinox—the #1 ship according to Cruise Critic–captures the very essence of premium cruising. Shippers can delight in multiple exceptional dining venues, 13 bars & lounges and health & wellness amenities including Canyon Ranch SpaClub & Fitness Centers. Enjoy craft beer and comfort food in the new Gastrobar, sip refreshing frozen cocktails on the pool deck at Slush or for a unique experience at sea, feel grass beneath your feet at the relaxing Lawn Club. Every imaginable comfort complimented by Celebrity's unrivaled guest services promises an unsurpassed cruise experience
Fans interested in new adventures for 2019 can sign up at www.thefriendship.com.
Gary Richards was named President, North America, of LiveStyle in September 2017. FRIENDSHIP is a new property from the recently launched AMFAMFAMF, a LiveStyle company. Stay tuned for further details.
About LiveStyle, Inc. 
Positioned to be one of the world's largest music event producers, LiveStyle boasts a wide variety of leading live music properties.  LiveStyle produces and promotes single and multiday music festivals across North America, Europe, South America, Australia and Asia. North American key operating entities include Made Event, React Presents, Disco Donnie Presents, Life in Color, and MMG, along with festivals and brands such as Electric Zoo, Spring Awakening, Sensation, and Life in Color. In Europe, the company boasts key operating entities such as Monumental, B2S, ID&T, i-Motion, and Q-Dance, and festivals and brands including Decibel, Mysteryland, Awakenings, Back-To-School, Air, Qlimax, Nature One, Sensation, as well as the innovative ticketing service Paylogic. In Brazil, LiveStyle owns PlusNetwork which has produced the enormously successful Tomorrowland Brasil festival and tours by internationally acclaimed DJs and artists. Further, LiveStyle has a 40% participation in Rock in Rio, held biannually in Rio de Janeiro, Brazil, with spinoffs in Lisbon and Portugal. Together with the Belgian Tomorrowland organization, LiveStyle launched TomorrowWorld, the first international version of the Tomorrowland festival, and also promoted the first South American Tomorrowland festival. LiveStyle continues to work with the Belgian Tomorrowland organization as its international partner to bring Tomorrowland to new territories outside Europe and to return to the USA and Brazil. LiveStyle also owns and operates Beatport, the trusted global home of electronic music where fans, DJs, and creators connect, discover and participate in the evolution of dance music culture.
# # #
For more information on FRIENDSHIP, contact:
Alexandra Greenberg/MSO PR
https://livestyle.com/wp-content/uploads/2018/03/Friendship-Sold-Out.jpg
652
1251
Candace
http://livestyle.com/wp-content/uploads/2017/07/logo-1.png
Candace
2018-03-13 16:32:56
2018-03-13 16:34:36
AMFAMFAMF Presents FriendShip Announces Sold-Out Inaugural Cruise